Are Invisalign braces the next best thing for teeth straightening?
Working With Traditional Braces Can Be Tricky And Patients May Experience The Following.​
Pain & Discomfort – Once you wear them, getting used to them might take time. Till then, you have to undergo discomfort while eating, sleeping, brushing, and so on. Giving up your favorite foods is the sad part here.
Self-Consciousness – There's a fair chance you may feel uncomfortable about how the braces look on you and how you may be perceived by others. Braces are considered "ugly" by many and most of us fear that judgment. It becomes a barrier in just smiling away without much thought.
More Frequent Dentist Visits – The dreadful part here is you have to follow up on the progress every now & then leading to a dentist visit consistently. That can drain you a bit and can turn a little uncomfortable after a point in time.
The pain, food sacrifices, look & feel of the braces are the factors that drive people away from getting braces. They are frightened to go through this process and to continue experiencing the same until they have a set of straightened teeth.
Experience The Difference
Confident Beautiful Smile Plan
Don't wait, let's start today
Pain-Free Teeth Straightening
Invisible, Removable, & Affordable Invisalign™ Teeth Aligners Because You Deserve A Confident Beautiful Smile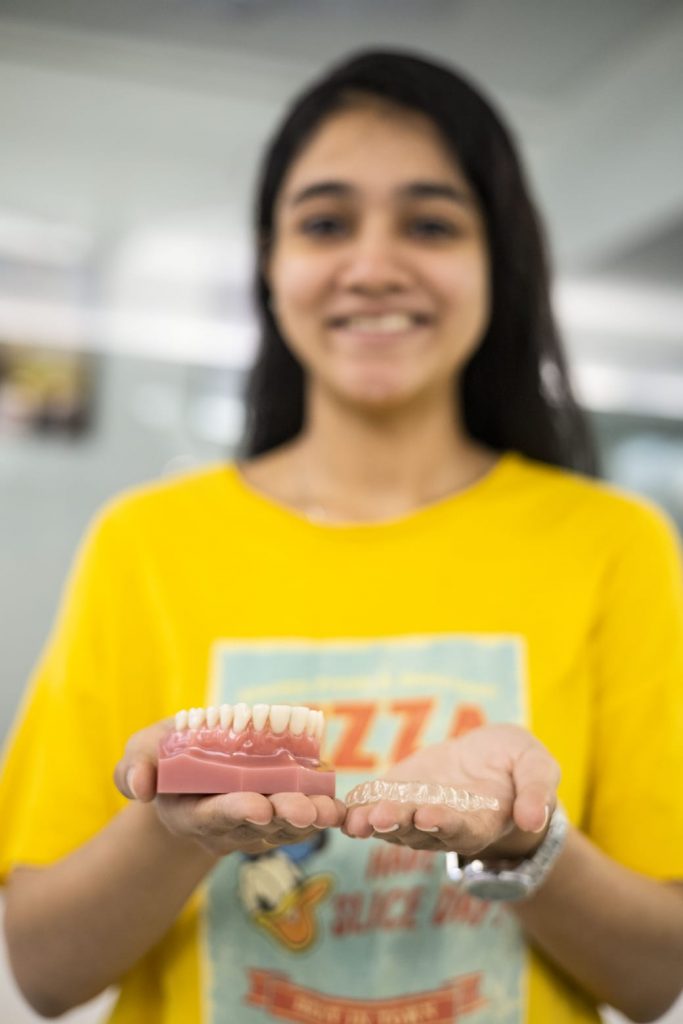 These are thermoplastic, transparent & flexible devices made to ease the process of aligning teeth for patients. These have grown in popularity today because of the benefits it carries.
As transparent as your confidence – Once you wear these braces, you won't have to worry if these look good on you or not. Because they appear to be transparent, there won't arise a question regarding your self-confidence. You can flaunt your smile effortlessly.
Easy-handling – These braces are indeed versatile as you can remove them according to your needs ie. while eating, brushing, etc. This way you won't have to press a full-stop on your everyday activities and your teeth-aligning process will run smoothly. With that, your oral hygiene stays intact.
Fewer problems – The best part about these braces is that it doesn't easily face issues like breaking. Because the normal braces undergo various issues like a bracket breaking or a wire coming off. With Invisalign, this issue is off the charts.
Lesser consultation visits – With the efficiency of fast installation & user-friendly experience these braces carry, the number of visits to the clinic lessens in number. Invisalign braces help you overcome teeth-related problems peacefully whilst doing their work.
Invisalign braces prove to be more efficient than normal wired braces. They boost self-esteem and are the next best thing in orthodontics. If you wish to lead a hassle-free journey when it comes to your teeth, Invisalign braces are your ride. These transparent braces are a one-stop solution from pain to pleasure.